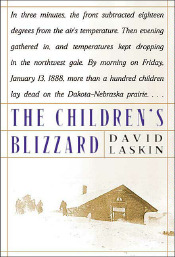 With snow predicted for Sunday night and Monday, I'm reminded of an intriguing new history title.
The Children's Blizzard
by David Laskin is about a storm that struck the Upper Midwest in January 1888 (great link to author interview). Oddly enough, the blizzard occurred just two months prior to a calamitous blizzard that hit New York City and New England.
What appeals to me most about the book is that the author, a writer of history who also specializes in weather phenomenon, conducted extensive research into the lives and experiences of the children and the families who were most affected.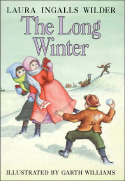 By now you know I'm a fan of blizzard books and stories. After a lifetime of indulging this predilection, my favorite is still Laura Ingalls Wilder's
The Long Winter
. I have read and reread this gem and have never ceased to be amazed at the clarity and spare beauty of the prose. A magnificent, fascinating book.