It's Time! Select your Best Read of 2004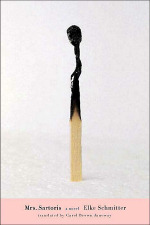 Last year I asked readers to join me in selecting their Best Read of 2003 in several categories. This year I'm going to ask everyone to choose the best book they read in 2004, but if you can't remember back to February or March, select any really satisfying book you read recently. In other words, if you visit this blog, do weigh in, regardless of your memory for the books of the past year! I'd love to hear about the book or books you loved reading!
Just enter your title and the author (if you remember it) and add any comments you'd like to make in the "Comments" area. If you'd prefer not to comment, just list a book title and its author.
The best piece of literature I read during the past year was, without any doubt or hesitation,
Mrs. Sartoris
by Elke Schmitter. I raved about it at some point this summer, so longtime readers of this blog may recall the title. It was shortlisted for the International Foreign Fiction Prize and received considerable attention as a work translated from German into English. The plot is so tightly constructed--it's a brilliant piece of writing.