Off-Topic Warning
: Yes, this is a literary blog. But today I am posting an off-topic entry, although several books have squeezed their way in.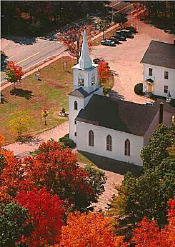 It's nearly half past one and I'm about to roast the lamb for our Christmas dinner. Nothing fancy, just a hearty, tasty meal. The holiday has been wonderful. This is a joy, considering how downhearted I can be about the season. Last night Ken and I attended the Christmas Eve service at our church. (Yup, Unitarian Universalists celebrate this holiday [and Hanukah and the Solstice]). The service was beautiful, filled with carol-singing and other music. Afterward, we enjoyed a warm, festive time greeting old and new friends in the Parish Hall.
This morning I woke very early and had a read-a-thon with Sophie in the family room. Although I had a slew of Christmas books to revisit, I couldn't keep my nose out of
Case Histories
by Kate Atkinson. I may leave it for a few hours, but the whole time I can't wait to resubmerge.
Sophie and I had a sunny hike at the Bradley estate. No one was about, not a human soul anyway, and I sang "The Holly and the Ivy" to the magnificent holly tree that sits at the edge of the lower meadow bordering the woods.
After breakfast, Ken and I unwrapped our gifts to each other. It amazes me how desperate we are to please the other, and how much reassurance we each seem to need to know that our gifts were just the right ones. Ken got me a slew of gift cards to spend at a number of my favorite establishments. This is a terrific gift because the giving can go on for months. A certificate for my favorite yarn store, The Snow Goose, and one for the nearest bookstore, and one for Starbucks, which I have been visiting much less frequently since our austerity campaign. I also received
Oracle Night
by Paul Auster (visit the archives to find my blog entry for February 4, 2004). I will never tire of rereading it. Somehow or other I thought I read it in late December last year, but since I read it in late January and February of this year, it must be my favorite book of 2004, with Mrs. Sartoris a runner-up.
On the docket the rest of the day: Dinner, Reading,
Dr. Zhivago
on DVD.
A party tomorrow. Calling all British readers: Do you have any Boxing Day party traditions or party games that you'd be willing to share with me?