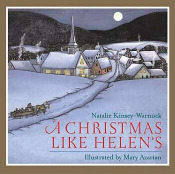 I spent yesterday shopping and shipping gifts. I unloaded my wallet at the
Brookline Booksmith
. That would have been even more fun, if I'd bought something for myself. But I have trouble combining business and pleasure. I must confess I know nothing about
A Christmas Like Helen's
; I just loved the art.
The entire process took all day. After the last box was mailed, I stopped in at the Canton library. As tuckered out as I was, I couldn't drive by without checking in, just in case some of the new titles I'm looking for had slipped in. And, sure enough. With a triumphant "Ha!" I grabbed Kate Atkinson's
Case Histories
off the shelf. (See below.)
I trudged home in an exhausted state and fixed a very strong cup of Peet's Darjeeling Choice tea. I slumped onto the couch, Sophie sidled up next to me, and, as I was too tired to climb the stairs to get
The Children's War
, I dove in to
Case Histories
.
An hour and a half later, Ken appeared, snooping around to see what was up in the kitchen. A ticking clock was about it. Atkinson's prose is so smooth, the reading so effortless, the characters and story so compelling, that I couldn't stop reading, despite my hunger. The private detective is charmingly quirky, and best of all, he's not introduced until page 65. Plenty of pages to lay the groundwork for each of the cases. Rivetting stuff.