Finally! Air conditioning in my office--I can breathe deeply again. I think the staff at our local Starbucks has been wondering if I'm homeless.
I have appreciated reading the comments to my last post and wish I could respond to each person personally, to thank them for weighing in, but since you did not leave a URL or way to contact you, I will just say thank you!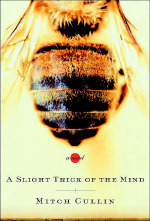 Last night in a pique of frustration, I heaved Hollinghurst's
The Line of Beauty
into the "to be returned" pile. I'm halfway through, and the second hundred pages (there are nearly 400 in the book), do not appear to advance the plot, at least not to my befuddled mind. The middle is mired in the doldrums. The last three nights I have read it, I have found myself again and again reading the words while lost in thought about other things. I have tried to persist, but, Booker-Prize judges, the story is not going anywhere there in the middle!
Onward. I turned to Mitch Cullin's
A Slight Trick of the Mind,
a novel that imagines the emotional life of Sherlock Holmes in his nineties. A psychological probing of a fictional character that has been portrayed as emotionless intrigues me. Check out
Mitch Cullin's Web si
te--I love it! Inventive, like his fiction.
(I'm sorry that the book link connects to a Washington Post review that you need to sign on for, but it was the only review I could find, and it's well worth reading. Why not sign up? Just give a fake name or something.)