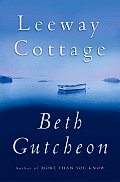 The horrendous weather has everyone down. It's impossible to have a conversation with anyone, from the check-out person to the trash man, without discussing it. Worst May nor'easter since 1967 and it ain't over yet. We have seen the sun only 5 days this month. I'm getting pretty desperate.
I put on hold a few fiction titles to cheer myself up, but the one that most piques my interest is not available from Canton library. Brand new titles do not travel on interlibrary loan for two months. So I've got a wait for
Leeway Cottage
by Beth Gutcheon. The novel's setting is an island in Maine; that, and the World War II Danish resistance tie-in is tempting.