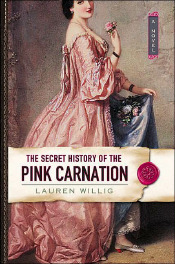 Tonight Lauren Willig is reading from her debut novel
The Secret History of the Pink Carnation
at the Harvard Bookstore in Cambridge. According to an
article in the Cambridge Chronicle
, Willig prowled the used books section of the store for years, searching for historical novels from the 1940s and 50s.
The Secret History of the Pink Carnation
is a historical novel (in a sense)about a historical novelist writing a historical novel. The novelist is a contemporary Harvard grad student in history doing dissertation research in London--that's what grabs me. The fact that she's trying to make a historical novel out of her dissertation is another. I love novels about academics set in London. Actually anything set in London will do.
Alison Lurie
wrote a couple, including
Foreign Affair
, which I loved so much I made everyone in my book group read it (great discussion book). Don't pass up the chance to curl up with that one, if you've missed it thus far.