This is an experiment. Am I capable of blogging after trying to learn Word 2002's "Template and Add-Ins" and stylesheet functions? I've never had to do this before, and I feel rather insane at the moment.
Okay! Deep breath.
Don't miss Jessa Crispin's (
Blog of a Bookslut
) diary in
the Guardian
, which describes a typical, fascinating week in the life.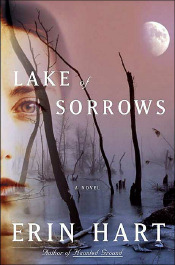 And, in book news, I wasn't aware that
Erin Hart
, author of
Haunted Ground
, a book I loved, published another in September.
Lake of Sorrows
brings back American forensic psychologist Nora Gavin and Irish archaeologist Cormac Maguire, the two main characters in
Haunted Ground
, Erin Hart's debut. That title is richly atmospheric, suspenseful, and full of Irish history and mythology. If you wish you could take a trip to Ireland, this book will do it for you. I read it on vacation and it was the perfect pleasure read. I was transported.
I'm concerned about reading
Lake of Sorrows
, though. I know nothing about it as of this moment. It's just that I love her writing so much that I wished at the end of the last book that she'd write another about an entirely new place. I'm not sure I want a reprise of the same characters and setting, as much as I liked them the first time. I guess I'm definitely not a series reader. Except for the Little House books!