The weather today has been so beastly! Wet snow and a hard, pelting sleet, followed by rain--what a mess. Golden retrievers and dirty slushy roads do not mix. Ugh.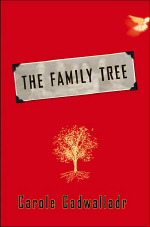 As I scooted around the web this afternoon, I'm reminded of a new book I'd like to sample. Maybe
The Family Tree,
a first novel by the Welsh-born British writer
Carole Cadwalladr
, could lighten the gloom around here. I must admit I'm very nervous that the
Kirkus
review protested, "This is not chick-lit!" Why did the reviewer emphasize that point? Does it read like chick-lit? Does it look like chick-lit? Now I'm more hesitant than I was before I saw that blurb. But the basic plot line intrigues me so. "A tale of a pregnant young woman whose scientist husband questions her genes while she questions nearly everything she knows..." Am I hard up for excitement or is that an interesting premise? I'm on the fence on this one.
Publisher's Weekly
and
Kirkus
gave it a starred review, though. It's been out in Britain since August--has anybody read it or heard about it?