My mind has been appallingly dull in the late afternoons for the past month or so. I've had to realign my work schedule a bit to compensate--I've tried to squeeze more writing hours out of the morning and have saved all other tasks for afternoons. Perhaps the lack of sun has been to blame, though I really have no hard feelings about deep winter. Sophie and I have been happy sludging through the snow all over Ponkapoag--she's been overjoyed to romp in the deep stuff.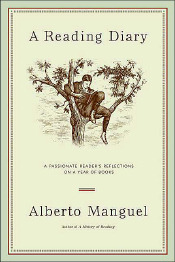 I've come across a thought-provoking book,
A Reading Diary: A Passionate Reader's Reflections on a Year of Books
by the Argentine-born Canadian writer, Alberto Manguel. In his entries he discusses his reflections on his rereadings of favorite books and works by favorite authors. He reads
The Sign of Four
by Arthur Conan Doyle,
The Island of Dr. Moreau
by H.G. Wells, the memoirs of Chateaubriand,
Don Quixote
, and others. He's particularly concerned with the connections he makes between realities in his everyday life and ideas stimulated by his reading. His writing is wonderful, and I enjoy picking up the book several times a day and reading several pages. Manguel travels extensively--Newfoundland, Paris, Berlin--so that his environments are constantly changing as he reads and writes.
He's staying in London when he rereads
Kim
by Kipling.
"Kim is one of the few books that constantly delight me; it grows friendlier with each reading. I want to apply to it a word used in Quebec to denote a particular state of happiness: heureusete. I love the tone of the telling, the vividness of every minor character, the moving friendship between the Lama in search of a river and the boy in search of himself. I never want their pilgrimage to end."
Manguel seems to own dwellings in most of the places he visits. There's mention of "his library" in London, for instance, and he clearly owns an apartment in Paris.
I love this passage:
"For me, no German city...ever had the reality of Conan Doyle's London: the gaslit rooms in Baker Street, the evil winding streets, the genteel foggy squares. Years later I traveled to London, convinced that I would find that memorable geography. My first shilling-metered bed-sitter above a fish-and-chips shop disabused me."