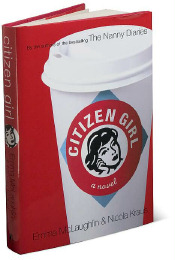 Since Christmastime, I've been wanting to blog something about
Citizen Girl
by Nicola Kraus and Emma McLaughlin, the authors of
The Nanny Diaries
. In December I did something I rarely do--I selected an author's second book when I've considered the first to be second-rate. Yes, I still have no idea what the hype surrounding
The Nanny Diaries
was all about. I found it oppressingly dull, although I did note at the time that as writers, Kraus and McLaughlin showed some possibilities.
Yet the whirlwind of a drama that swirled up last winter about their contract problems with Random House made me curious to take a peak at
Citizen Girl
. (For my take on the hysteria, go to the archives and see my entry of February 9, 2004.) When, after three literary agents and two publishing houses, Kraus and McLaughlin landed at Atria, I waited for the book to appear.
My verdict:
Citizen Girl
will be loved by young, twentyish, single professional women trying to survive in today's work environment and dating scene. (Link is an interview with the authors.) Girl is feisty, bright, incredibly stupid, and a desperate achiever. I identified immediately. But, as so many reviews have pointed out, the plot circles and circles and doesn't really get off the ground. In other words--wait! Can a book be extremely episodic? Yet, as many critics have also said, the book has its brilliant moments. There are flashes of killer dialogue, and those sensational one-liners were great, but it was not enough to make me read through to the last page.
In any case, I'm hanging in with them. I will pick up another book. I do wish, though, that they'd grab themselves a top-notch editor. Surely they can afford it. Then they might go places.
If publishing brouhahas entertain you, do check out this crisis summary in the
Rocky Mountain News.