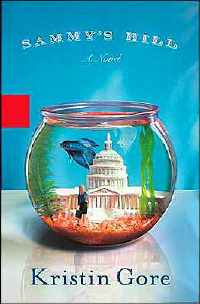 In book news, I saw Kristin Gore speak about
Sammy's Hill
on
Book TV
this past Sunday. Aside from her intermittent giggliness, she had alot of intelligent things to say about her process, what she was aiming for with the book, and so on. The
New York Times
printed a review that was so over the top surly and mean that I immediately disregarded it. Whenever I read a
New York Times
review that is out of control like that, I know I've got to seek out other sources if I want an objective, intelligent view. What is the point of publishing a review that reeks of "Let's rip apart Kristin Gore because she's Al Gore's daughter and she had the audacity to publish a novel." Hearing Kristin talk about the book and about the struggles of her young protagonist swimming amidst the sharks in D.C., I definitely want to read it and I've ordered it from the library.
Instead of providing a link to the NYT review, which has a URL that's a city block long, just google
Sammy's Hill
and
New York Times
and you've got it.
I have spent alot of time fussing with the new Blogger, and I have nothing nice to say at this point. I'm so mad they've hidden the source code. The new templates contain absolutely no information to ease template additions and adjustments. I don't see how to do a damn thing. The help articles do not even discuss the issue, so I've sent the support staff a letter to which they will no doubt pen a cryptic response. Bah! I vent all this, realizing that "Musings from Redwing Marsh" is based on an old Blogger template, so much of my rant is reserved for my
"Madame Defarge:Knitting in Desperate Times"
blog. I have said too much already and so I will move on.