The end of summer whirlwind is upon me and I'm involved in more than tying up summer's loose ends. Labor Day weekend marks the time Ken and I start to prepare for our annual journey to Minerva, New York, in the heart of the Adirondacks. The last few days have seen me de-cluttering my office and the bedroom as well as cleaning out my file cabinets and the closets in both rooms, all as part of the mission to have an orderly, organized home to return to after our vacation.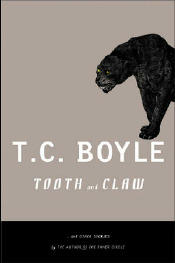 I visited my cousin Heidi in Connecticut this past week and have been so inspired by her unbelievably uncluttered home that I've been sorting, filing, and throwing stuff away ever since. In her home, I was amazed at how peaceful it is to spend time in a place that isn't crowded with an overload of STUFF. Maybe, I think to myself, I'll be better able to concentrate and focus in on work when I return if my office is cleared of all the distractions lying around.
So here I am, and I've said nothing about books or reading. I'm excited to report that
T.C. Boyle
has a new collection of stories to appear this month. (I just love "What's New," the blog on his website!)
Tooth and Claw
, published by Viking, is Boyle's seventh collection of stories, and I can't wait to get hold of a copy.