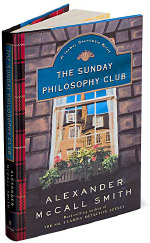 So who else is from Zimbabwe? Why,
Alexander McCall Smith
. Of course, when he was born there, Zimbabwe was Rhodesia. Readers of
my knitting blog
(visit if you dare, but remember, it's only interesting if you're crazy about yarn) know that I recently listened to
The Sunday Philosophy Club
, which introduced a new heroine, Isabel Dalhousie of Edinburgh. I loved it, but I should preface that remark by mentioning that I am most definitely not a fan of the mystery genre. The book was amusing, thought-provoking as far as the moral issues confronting Isabel are concerned, and very relaxing.
Reading it piqued my interest in its author.
Who is this man
whose lead characters are so convincingly female? Smith teaches medical law at Edinburgh University, and has written dozens of books, some of them on topics relating to his professional specialty, such as
Forensic Aspects of Sleep
. (I may have little interest in crime literature, but that does sound fascinating.) From cruising his website, I'm curious about his collection of stories,
Portuguese Irregular Verbs
.
To listen to an NPR interview with Smith, which was broadcast in October 2004, shortly after publication of
The Sunday Philosophy Club
, go to
the NPR website
and search "Alexander McCall Smith."