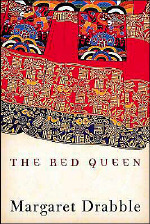 I visited
WAMC
, Northeast Public Radio, today, in the hopes of listening to the
roundtable panel
about book blogging with
Maud Newton
, Jessa Crispin of
Blog of a Bookslut
fame, and Dennis Loy Johnson, head writer at
MobyLives
. The show was broadcast this morning but hasn't been archived yet and is not available as of this writing. I'll bet it'll be ready tomorrow.
In the meantime, I did find a program I'm eager to hear.
The Book Show
is hosting Gish Jen this week and Margaret Drabble in two weeks. I was so hoping the show has archives, but alas, they have only this week's show and last week's. The program on November 1 hosted Susanna Clarke, author of
Jonathan Strange and Mr. Norell
.