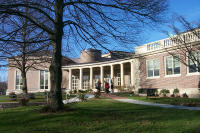 I am sick about what happened at my public library the day before yesterday. The brand new architectural wonder of this humble suburb has significant building damage from a burst water main. Miraculously, the collection and all the new computers were spared. So it's closed "indefinitely," according to the notice posted on the library website. I wish they'd give more information and let the public know how serious it is. I don't know how much to worry.
I'm embarrassed to say that in the midst of such a disaster, I have a selfish, petty concern.
Loose Lips
by Claire Berlinski, the book I ordered, was expected to arrive yesterday! What will happen to it? Will they send it back to the library it came from? Will I still be on the "Hold" list after waiting for it for two months? I'm dying to read it because Berlinski supposedly interviewed ex-CIA operatives to get the details down. I've always wanted to know what it was like on the inside. My curiosity may stem from the fact that I have a cousin who has worked for the CIA for thirty five years, but since he's not talking, this may be the only way I'm likely to get an answer.
The news about the library closure set me scrambling to see how many unread books I have on hand. In this nearly unprecedented cold spell, escapist literature becomes a lifeline. I have
The Pursuit of Alice Thrift
by Elinor Lipman, but it did not pan out. Her male character did not engage me, to put it politely. How could anyone so wacky be stereotyped? But he surely is. Alice has her redeeming features and may be the greatest hope for the book, but I found Lipman's humor to be so stale that on page 25, I turned to television for diversion.
I have never read anything by Lipman, and was curious. I won't rule her out in the future based on this one lack of connection. Maybe I should try one of her highly acclaimed titles.