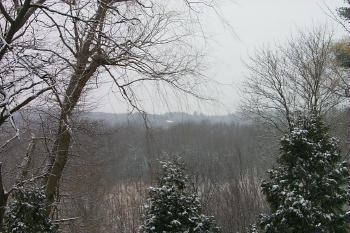 Wintry Morning on the Marsh
During the day today, amidst errands, work, and dog walks, I will be posting the results of the Best Books Extravaganza. I hope to have the results recorded here by the end of the day, or at least by tomorrow morning.
Readers' selections created a fascinating list of books, made all the more interesting by the fact that it was exceedingly rare for any book to be chosen by more than one person. The books with the most votes were
The Lovely Bones
and
Drop City
, both of which received only two votes.
By the way, before it's too late, I'd like to weigh in on my favorite books read last year:
Best Book Overall:
Drop City
by T.C. Boyle
Best Book Published in 2003:
Drop City
Best Novel:
Drop City
(Help! How monotonous! I apologize for the repetition!) Runner up:
Atonement
by Ian McEwan
Best Nonfiction:
The Fall of Berlin, 1945
by Antony Beevor
Best Memoir:
Lucky
by Alice Sebold Runner Up:
Reading Lolita in Tehran
by Azar Nafisi
Best Books-Oriented Blog: This is a toughie! But I'm going to have to give the final nod to
Maud Newton
.
Have to dash out with Sophie. I'll be back with more in a few hours!