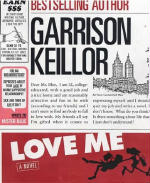 Just for fun I dipped into
Love Me
by
Garrison Keillor
at the library and, being amused, took it home with me. The first fifty pages were side-splitting. Keillor's outrageously irreverent humor and his ability to poke fun at himself (his main character bears an astounding likeness) had me guffawing! (That may not have been attractive, but I needed a belly-laugh with all this sub-zero windchill business).
Keillor's protagonist Larry Wyler, a struggling short-story writer, hits it big when his novel is published. As he becomes a national celebrity, his marriage disintegrates, and he abandons St. Paul to accept a job at
The New Yorker
. From this point, the book swoons and takes a nosedive right into the East River. Keillor's wit degenerates into buffoonery when Larry comes down with an intractable case of writer's block. In desperation, Larry becomes an advisor to the lovelorn for a St. Paul newspaper and is overwhelmed with the desire to get his wife back. Where the book goes from here (three-quarters through) is anybody's guess because I am beyond the fatigue point with the (shall I say juvenile? adolescent?) silliness of it. But the first fifty pages were a howl!