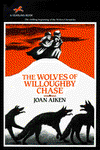 A few moments to resurrect my thoughts about Joan Aiken. As an eleven-year-old I was enchanted by her trilogy:
The Wolves of Willoughby Chase
,
Black Hearts in Battersea
, and
Nightbirds on Nantucket
. What most impressed me about her writing was the way she made the real world "other-worldly," by creating a mood that was dark, shadowy, and mysterious. At the time I imagined that she must be an eccentric since so many of her characters were that way.
I have to confess that I have read one or two of her adult books, but so long ago that I can't recall a title or a plot. (This was before the time I kept a record). I'd love to find a way to provide a link to an interview that discusses her writing, but so far it's not working. Sometimes Blogger refuses to link to a site. So try this: Google this search string "Gavin J. Grant Joan Aiken."