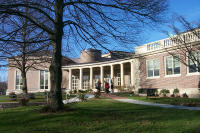 Yesterday was a gorgeous day, perfect for getting a good photo of the new western entrance to the Canton Library. The town was so fortunate to grab some of the public funds for library improvements while the money was around. Nearly a year into Governor Mitt Romney's reign, there's scarcely a cent to be had, although I did hear that he is allocating some money to state-wide library renovations.
Today I finally made it to the
Boston Athenaeum
to pick up an interlibrary loan. Then I dashed over to the
Boston Public Library
to borrow a few books on postwar Germany. I always enjoy the trip into town on the commuter train, observing the world of the worker bees who hustle in and out everyday.
There's a definite commuter rail culture during peak hour transit that is not apparent at other times of the day. The biggie is "Don't talk to anyone except someone you know." Another is, "If you truly must look at another rider, make the glance furtive and fleeting. Turn your eyes away the second that he/she notices your gaze."
On the noon train, strangers may exchange comments. Cell phone users talk loudly. One may belch, cough incessantly, and bark reprimands to one's children without garnering a train-full of annoyed looks.
Something peculiar today; it seems that many more commuters are actually
reading
Boston Metro, the free paper that litters T-stations, trains, and trolleys. What gives? Did the Boston Globe increase its price recently? The Herald? I found a half-dozen reading the BM on the T from Park St. to Copley. Something different is definitely happening there. I'll have to investigate. The BM URL supplied by Google doesn't work, so I won't link to it until I'm sure it'll get you there.