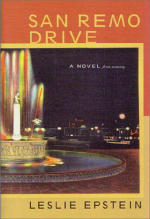 Leslie Epstein's
San Remo Drive: A Novel from Memory
has been my gym read of late. I first learned of it in December when it was included on a number of "Best Books of 2003" lists. I've never read anything by Epstein before, and I was surprised to discover that he's been director of the creative writing program at Boston University for 25 years. The novel's affecting, and is told from the point of view of the teenaged Richard Jacobi whose screenwriter father tragically dies after being brought before the House Committee on Un-American Activities during the early 1950s.
The "Novel from Memory" part of the title has been intriguing me since I read the first chapter. How much of the novel is autobiographical? How much fiction? An
interview with Epstein
recorded in BU's student newspaper offers some tantalizing clues. (Sorry, pages 2 and 3 of the interview require a free registration.) For those who want an easier link, the
Albany Times Union
also spoke with Epstein about the parallels between his life and
San Remo Drive
.
According to Epstein, his father Philip and his brother wrote the screenplay of
Casablanca
. Philip, like Richard Jacobi's father, was killed in a car crash a year after testifying before the House Committee. The novel throbs with raw emotion and is well controlled, despite that fact. I must reserve final comments until I have finished reading, but I am looking forward to the second half of the book when Richard is a much older man.