A Saturday with Sophie and Ken at Wellesley College. It seems we picked a parents' weekend to romp across campus. Poor planning on our parts. Just too many people. For the first time, Sophie ran away from us and dove into Lake Waban, swimming her heart out and coming back to us all dirty and smelly. My intent was to play the tennis ball game and snap photographs when permissible. I did manage the latter, though many of my shots ended up blurry from those tugs on the leash.
Colors are muted now, a stark contrast to the brilliance of a couple of weeks ago. Paramecium Pond is a favorite with the canine set, though no owner I know approves of dunks in its muddy depths. A grooming appointment is definitely on the horizon.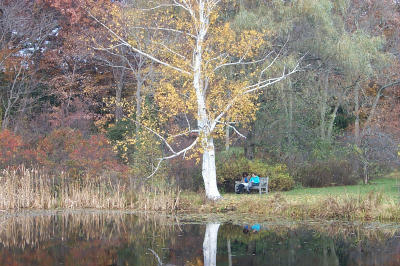 Reading
James Carroll's
Secret Father
. I've only read 100 pages so far, so I can't offer a review yet, but I would like to say a few words about him and why he's a person to watch.
Carroll is a former priest, a self-acknowledged Vietnam War draft dodger and anti-war activist who today is a full-time writer. His memoir
American Requiem
, about the Vietnam days and his troubled relationship with his father, a military man, won the National Book Award in 1996. He currently writes a weekly op-ed column for the
Boston Globe
that takes Bush, his administration, and its policies apart. If you like to see Bush take a good thrashing on the editorial pages of a major newspaper, check it out.
I had the pleasure of meeting him years ago at a Pen/New England gathering and it is to his credit that he introduced himself to me, an absolute unknown in Boston literary circles. He was with a group of people and was being welcoming, and I appreciated him for it just as I admired his humility